System Status:
01/11/2022: NAIP 2021 has contracted 33 states/affiliated territories. The following were contracted as part of NAIP 2021 acquisitions: AL, AR, AZ, CO, CT, DE, FL, GA, IA, ID, IL, KS, LA, MA, MD, ME, MN, MS, MT, NH, NY, OH, OK, RI, SC, SD, TN, UT, VA, VT, WA, HI and PR/USVI. NAIP 2021 Compressed County Mosaics (CCM) are arriving at the USDA-FPAC-BC-GEO Branch.

These states are available at the following NAIP weblink as of 01/11/2022: CO, CT, DE, IA, ID, IL, KS, MA, MN, MT, ND, NH, OK, RI, SC, SD, VA, VT and WA. (Expected soon in 2022: AR, TN and OH.) https://nrcs.app.box.com/folder/17936490251?v=naip

Most NAIP 2021 states were completed for aerial acquisition by November, 2021. However some states were not completed due to smoke from fires and weather issues. These states are being collected later in 2021 and potentially into 2022: AZ, LA, MS, AL, GA, FL, HI and PR/USVI.

More states are expected to be received at USDA soon. Please re-visit the USDA Gateway for further updates to NAIP 2021 CCM's.

As of December 31, 2019 the Raster Soil Survey datasets are only available through the Direct Download option on the home page and are no longer available through the Gateway ordering process.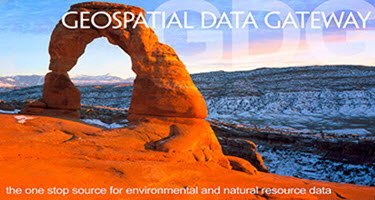 The Geospatial Data Gateway (GDG) provides access to a map library of over 100 high resolution vector and raster layers in the Geospatial Data Warehouse. It is the One Stop Source for environmental and natural resources data, at any time, from anywhere, to anyone. It allows you to choose your area of interest, browse and select data, customize the format, then review and download.

This service is made available through a close partnership between the three Service Center Agencies (SCA); Natural Resources Conservation Service (NRCS), Farm Service Agency (FSA) and Rural Development (RD).